jerry jeff's guitars
---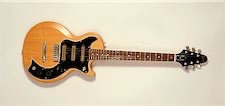 1976 Gibson S-1
This is the guitar Jerry jeff is pictured with on the cover of "A Man Must Carry On". It is listed on the Gibson website as one of the 5 freakiest guitars made by Gibson, and sold 3,089 in its 4 year run.
---

1986 Fender Stratocaster
Known throughout the Texas music industry as one of the most photographed guitars Jerry Jeff Walker ever played and described by him as, "one of the best Strats he ever owned", this sunburst Fender Stratocaster started with humble beginnings. Manufactured in 1986; serial number 0XX8 was produced at the Fender Custom Shop in Riverside, CA under the watchful eye of shop founder and senior design engineer, Michael Stevens. It has gone through many cosmetic transformations as pictures indicate prior to it current state. This Stratocaster features a 22 fret rosewood finger board, solid ash body, Birdseye maple neck, sunburst finish, and three hand wound piezo pickups for a rich and deep tone. This guitar was featured throughout the Texas Connection music series aired on KLRU and was used exclusively throughout Jerry Jeff's last live recording concert to date, "Night After Night." This guitar was purchased by Bill "MussDog" Musser after a night of drinking with Jerry Jeff backstage in November 1995 at the "City Limits" night club in Stephenville, Texas. It is rumored that after MussDog purchased the guitar, he staggered out to his truck only to be reminded by Jerry Jeff that he was about to drive off without it. It continues to be used on a regular basis at various music functions in Central Texas.
---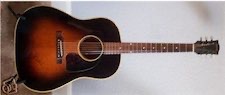 1954 Gibson J45
Sold on eBay on February 25, 2008 for $2,827, the following is the description: "This guitar was Jerry Jeff Walker's stage and songwriting guitar. It is a 1954 Gibson J45, comes with a signed letter from Stan Hitchcock detailing the history and a video of Jerry Jeff playing it on the television show that Stan produced.. Stan was part of the founding team which started CMT back in the 80's and was producing a television show when Jerry Jeff was the guest in March of 93 (Heart to Heart) and at the time Jerry Jeff was playing this guitar. Stan had talked him into selling it to him before the day was over. This guitar has had Gotoh tuners installed and has had custom electronics installed from Jerry Jeff's guitar tech. It has an "awesome neck", low action and sounds beautiful. Since Stan had purchased it, it has been played by Marty Stuart, Don Williams, Dan Seals, Mel Tillis and a host of other stars who have admired it and were on Stan's television show. I also had Jerry Jeff sign this guitar backstage at the Red River Opry in Phoenix AZ in 1999. I have owned this guitar since February of 1999 when I purchased it from Stan. This is an awesome guitar and comes with original hardshell case."
---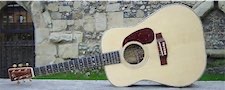 Pawless JJW Model
The Pawless JJW Model guitar is one of six guitars to be built containing a label hand signed by artist Jerry Jeff Walker. This was built by Vince Pawless of Pawless Guitars and was completed in 2003. The guitar (named the "Pawless #19") is constructed of highly configured Brazilian Rosewood back and sides with a considerable amount of pale sapwood visible, solid Mahogany neck, Bolivian Rosewood bridge and peghead veneer, Ebony fretboard with pearl star and dot inlays. The top is a solid two piece Engelmann Spruce plate - with lots of bearclaw - with Abalone inlay soundhole purfling. The top is completely surrounded, while outlining the fretboard, with Abalone inlay. The peghead has a star within a diamond inlay as suggested by Mr. Walker, with Vince Pawless' signature in gold leaf overlying that inlay. Waverly Gold engraved tuners adorn the peghead. The nut, bridge pins and bridge saddle are mammoth tusk ivory. The bridge pins have inlaid abalone dots. The guitar has a Fishman Matrix pickup system for stage and recording use.
---

1993 Martin - "1935 Special"
A 1993 Martin Guitar that was called a "1935 Special". This was once Martin's "Guitar of the Month" and was the guitar that Jerry Jeff used in the Viva Luckenbach recording.
---

J-200 Gibson Ray Whitley Jr. Custom
A Gibson J-200 Ray Whitley Jr. model from the Custom Shop done in Brazilian rosewood.
---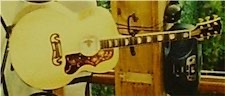 Gibson J-200
A Gibson J-200 100th anniversary model (1993 or 1994) in maple.
---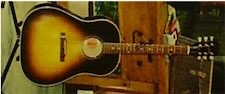 Gibson J-45S
Gibson J-45S, year is uncertain. It has Takamine electronics in it. It was used on the Cowboy Boots and Bathing Suits project and potentially on the Hill Country Rain CD. This guitar is now owned by Jerry Jeff's bass player, Cosmic Bob Livingston.
---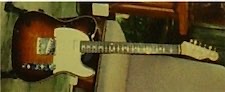 Fender Custom Shop Telecaster
A Fender Custom Shop Telecaster made to JJ's specifications. IN addition, it has his and Django's name engraved on the neck plate.
---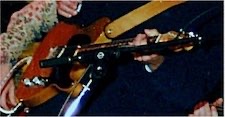 Unknown Fender Telecaster
Picture taken in March 1996 at Luckenbach. This guitar was believed to have been sold on Ebay in 2006. Note the pickguard is dark on this one. The eBay auction stated it was made from various Fender parts.
---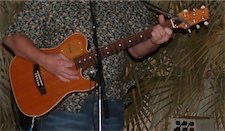 Godin
A Godin guitar manufactured in Canada.
---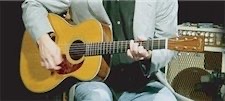 Martin OM Acoustic
This a Martin M21 guitar being played through a California Blonde amp by Jerry Jeff in his DVD, One and Only.
---
1965 Fender Telecaster
The guitar is a '65 Telecaster, previously owned by Jerry Jeff. This was purchased at Heart of Texas music in 2000. Guitar was verified by Django Walker in 2002 as a previous Jerry Jeff-owned guitar.
---

Natural Finish Fender Stratocaster
The guitar is a Fender Stratocaster previously owned by Jerry Jeff. It has a natural finish, with rosewood pickguard and frets. Guitar was stolen in New York City and whereabouts are currently unknown.